"Gather, fish, hunt, fast, sweat, pray": Practicing Anishinaabeg Nationhood in Southern Ontario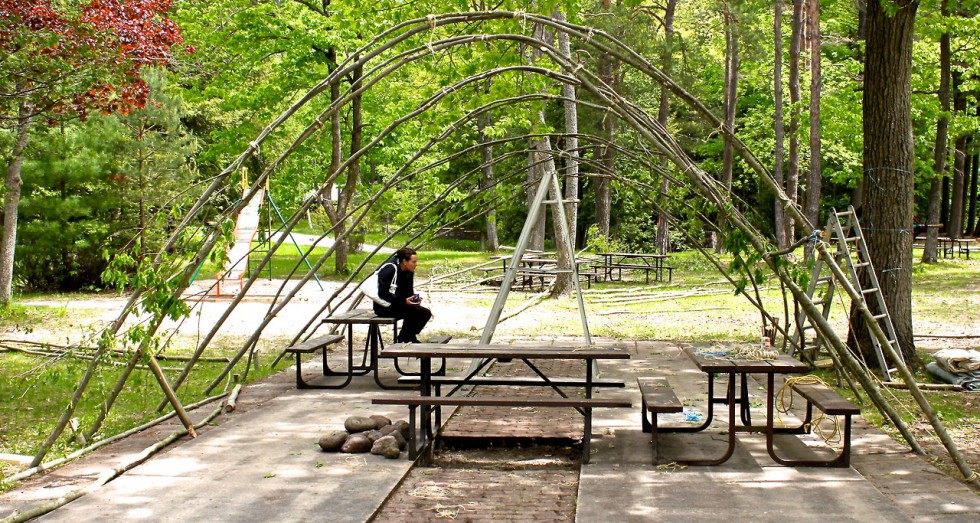 Nationhood is a difficult concept to apply to Indigenous peoples. From an Anishinaabe perspective there are a diversity of opinions on the scope of nationhood, both historically and in the present. This is partly due to awkward attempts to squeeze Indigenous governance models into the straitjacket of European-inspired concepts. So the best understanding generally comes from practice – how do Anishinaabeg (and Indigenous peoples generally) practice nationhood today? In my own community of Gchi'mnissing we have the Indian Act and the band council, but we also have a parallel system in operation reflected by those among us in the sugar bush collecting sap, on the Bay hauling nets, or in ceremony under the full moon.
John Hawk and Beth Elson are among this latter group. For much of their lives they have been working towards "retracing our steps to find what was left by the trail" – a reference to the Seventh Fire Prophecy, which signals the revitalization of Anishinaabeg culture and philosophy. Since 2012 their actions have intensified and both John and Beth spearheaded separate efforts to re-claim Anishinaabeg territory and re-assert nationhood in Southern Ontario.
In the former case, Kai Kai Kons John Hawk (along with Giibwanisi Richard Peters) founded Oshkimaadiziig Unity Camp in the spring of 2012 as a protest of the Coldwater-Narrows specific land claim settlement. Their original camp was on the grounds of the Coldwater Museum in Coldwater, Ontario, but for a variety of reasons they later moved to Awenda Provincial Park, just outside of Penetanguishene, Ontario. John and Rich have undertaken the reclamation under the banner of "ACTION" (Anishinaabek Confederacy to Invoke Our Nationhood), which they assert is "a union of sovereign Anishinabek individuals and communities who are re-establishing original Anishinabek institutions throughout their territories."
Meanwhile Beth Elson is among a slightly larger but more loosely affiliated Native and non-Native group that has re-claimed Springwater Provincial Park in the northwest corner of Barrie, Ontario (the group also includes Sylvie Simard, Kim Rose Edwards and Vern Altiman). Their efforts began with ceremony on April 1, 2013, the day after Ontario "removed their flags" - a reference to the government's re-designation of the Park from operational to non-operational. This re-designation was a sign that the province was abandoning the Park as well as their conservation obligations. As an Anishinaabe kwe with a responsibility to protect the water, she decided to act on her responsibility and effectively take over the management of the Park, re-naming in Camp Nibi.
Both reclamations reflect what might be described as contemporary characteristics of traditional Anishinaabe practices of nationhood. First, these practices take place on the land, and more importantly, in sacred sites. Second, they are simultaneously spiritual and political. Third, they are rooted in responsibility and relationships. Finally, those practices are often unpopular, responded to with apathy and sometimes criticism. Each of these themes was drawn out of reflections by Beth and John on their motivations and challenges throughout the reclamations. We worked in collaboration to produce this brief overview of Oshkimaadziig Unity Camp and Camp Nibi.
-
For both John and Beth, the lands they've chosen to (re)occupy are not of the common sort. Both Awenda and Springwater Provincial Parks are the traditional territory of the Anishinaabeg but are also home to sacred sites. In the case of Awenda, it is site of the little-known Council Rock, an icon of Anishinaabe diplomacy and international relations. John and Rich have chosen the site to remind our communities that our contemporary actions are violating our more ancient and authentic traditions.
John: "We started Oshkimaadiziig Unity Camp because of what we saw as the illegal surrenders of our inherent rights and traditional territories by our community governments and Canada – these surrenders (and claim settlements) are in breach of the 1764 Niagara Covenant Chain Belt, which confirms our autonomy. Instead, we are giving our authority to Canada. So we began this because we were frustrated with the few avenues currently provided for our people to abide by our Nation-to-Nation relationship. And we chose Council Rock to remind people of that original relationship. Council Rock is a massive granite outcropping that has totem inscriptions from Hereditary Chiefs Assance, Snake and Yellowhead as well as markings from Lieutenant-Governor and Indian Affairs Superintendent (dated to May 11, 1785). More than that, Council Rock is the site of one of five diplomatic embassies and neutral spaces in the Haudenosauee-Anishinabek Friendship Belt and long-held pact of peace and friendship. So its symbolic for us, today more than ever."
While Council Rock is a site of great historical and symbolic importance Springwater Park is a more intangible sacred place, a relatively preserved space in industrial southern Ontario, an Island of ecological diversity bordered by ski hills, golf courses, highways and subdivisions. For Beth, the reclamation was an effort at preventing any further encroachment and development in the territory, and specifically, to speak for the land and the water there.
Beth: "There are many freshwater springs on this land, which need protecting. And in Anishinaabe law, it is our duty as women to protect the water. Throughout my time here, these efforts have drawn me close to it. And I've learned that I am a very spiritual person. The connection I've forged here to spirit, mother earth, land, water, ceremony and my friends has been one big awesome journey. It's been gratifying. It's a special place. And it has made me realize Camp Nibi is needed for all people to learn and discover."
Describing the place necessarily forces Beth to discuss the spirituality, which has been at the core of her efforts – even if it wasn't fully intended – it has been a consequence. Her obligations as an Anishinaabe kwe have been confirmed and re-confirmed. For John Hawk, the Awenda Park reclamation has also been rooted in spirituality and obligation, too. In fact, the first Oshkimaadziig Unity Camp in Coldwater to his present activism are inspired by a vision he received during a four-day fast.
John: "I was setting nets out in the bay. But it was strange because I was feeding the fish whale and shark meat – they couldn't feed themselves - they we're dying. When I came out of the fast I shared my experience with others at a feast that ended the ceremony and that same day thousands of fish washed up around Georgian Bay dead. Our ceremony people took this very seriously. And I am not a seer; this is just how powerful our ways are when we seek answers through our spirituality.
"This vision managed to get the Grand Chief of the Midewiwiin Society to our community. And the explanation of my vision, in relation to the answer I was seeking, was that if we use a foreign process to feed what naturally sustains us, than we will end up like those fish. For me, this relates to land claims and the Coldwater Claim our communities negotiated."
From John's perspective it is impossible to separate the spiritual from the political, the two are inherently linked. It was a dream that led to action and a protest against what John sees as a foreign process with the ability to sever our relationships with the natural world. This if reflected in Beth's sentiments as well. Though her activism is perhaps more complicated. The reclamation at Camp Nibi a rare example of spiritually grounded pro-active political activism but actually inspired by both her institutional and Anishinaabe educations.
Beth: "As part of my education at Sault College, I was taught in part by staff from Ontario's Ministry of Natural Resources. When I learned that Crown land was held in trust for First Nations people and that we should be considered Stewards, I almost fell of my chair! I thought, why are we not jumping in and doing it, being Stewards? In my Anishinaabe education, I am taught to stand up for the land and to push the limits so our own protocols can be established on our territorial lands. Use it or lose it! I choose to use! Wake and shake awake a Nation who has been watching and waiting for too many decades. Time to stand up! Choose to assert your rights and practice your culture! Gather, fish, hunt, fast, sweat, pray."
But whether this message is conveyed in the form of a warning, reflected in John's vision, or is more celebratory like Beth's call to action, the response has been a fair degree of apathy. Not many have joined the causes. Certainly both camps have support from other Native people, allies and of course people from their own community, they both also cite limited participation from others - and even attempts to silence them - as one of the more significant struggles they've faced.
Beth: "We've dealt with the changing seasons, spring rains, summer heat, windy fall, and securing the place for a cold winter. Just busy surviving, really. We also spend a lot of time coming up with inventive ways to play this political game we're playing without going to jail. But the other significant challenge is not enough support from our Anishinabek men to split wood, insulate tents and cabins, build toilets, etc. We get it all done as women but we always wondered where are our warriors? More than that, we just need more numbers here. It's hard when you want to leave to spend time with families and friends because you just can't; you are needed at camp. It seems sometimes like you are on your own. Ultimately you have work to just focus on what you can change. And then hope some others follow. Sometimes good-hearted people actually do. It always puts a smile on my face to see a brother or sister new to the journey. The wake up and stand journey!"
John: "There is a serious lack of interest from our local people within our own communities to get involved. There is also a lack of interest from the people in power within our communities, the band councils that find ways to silence us by denying is access to venues in our communities to educate our own people. We just want to talk about what we are doing and how their rights are being infringed upon. Of course, there are grassroots community people that do believe in us and do support us. But it's hard to get them beyond support to action. These are people that are busy trying to survive and put food on the table. We're hoping to make the case that there are alternatives, that we can establish projects and programs so we can be on our lands, asserting our sovereignty and creating work to sustain our people and feed ourselves."
In their efforts to raise awareness, both John and Beth have made formal requests for support from band councils as well as regional political and treaty organizations with varying degrees of success. They've also hosted gatherings and launched speaking events but the response remains limited.
At the time of writing, the two continue the work they've started. John and Rich (among others at Oshkimaadiziig) have built a small cabin and continue to be a presence at Council Rock. John now splits his time between the Oshkimaadziig Unity Camp and Grassy Narrows, continuing his Anishinaabeg education and working on plans to create camps elsewhere. When I last talked to John he was hosting a pancake breakfast on Gchi'mnissing, sharing maple syrup harvested from Oshkimaadziig and some teachings, too. Meanwhile Camp Nibi is no more. In early 2014, after nine months at the park, Beth successfully negotiated with the provincial government to have a formal say in the management of Springwater, what the province calls "a joint-partnership". She is still a regular presence at the Park and will be hosting another full moon ceremony there this month.
Both Beth and John continue to practice Anishinaabe nationhood.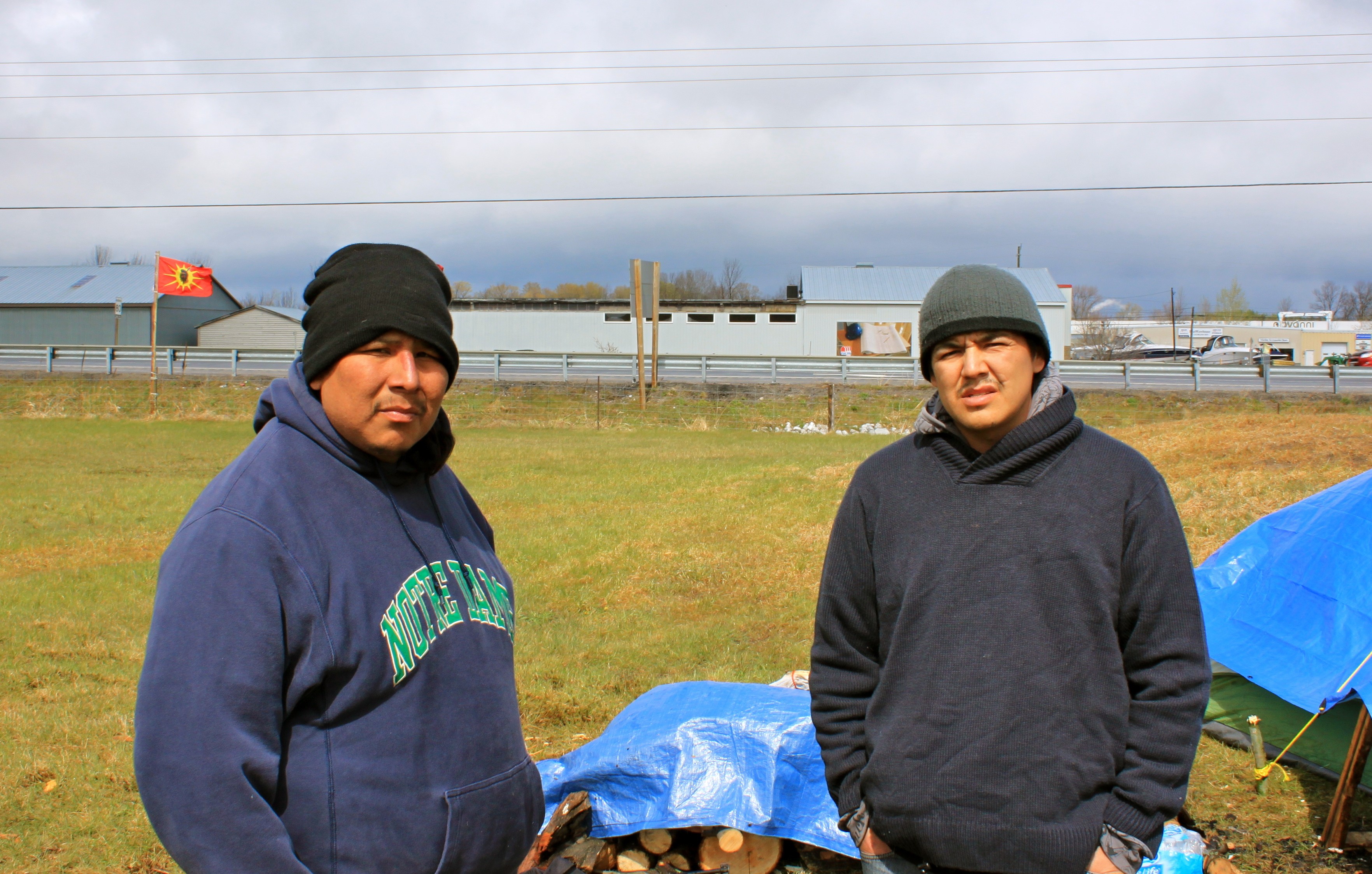 —
John Hawk is a sovereign Anishinabek of the Loon Clan and a part of Turtle Island Warriors Alliance. Beth Elson is the Union Ontario Indians Women's Water Commissioner for South East Region. Hayden King is an Anishinaabe writer. Follow Hayden on Twitter: @HaydenKing