'Our bodies should be on the land'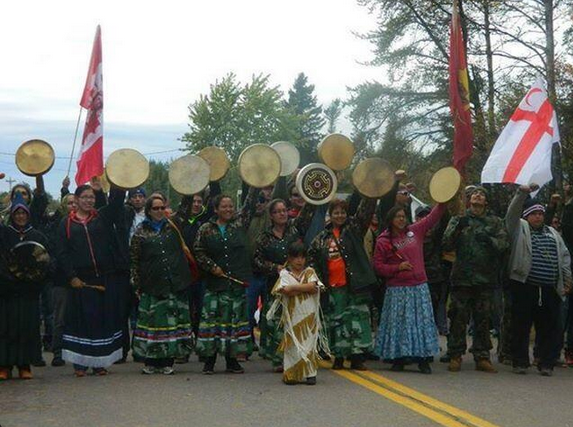 The story here, the real story, is virtually the same story in every Indigenous nation: Over the past several centuries we have been violently dispossessed of most of our land to make room for settlement and resource development. The very active system of settler colonialism maintains that dispossession and erases us from the consciousness of settler Canadians except in ways that is deemed acceptable and non-threatening to the state. We start out dissenting and registering our dissent through state sanctioned mechanisms like environmental impact assessments. Our dissent is ignored. Some of us explore Canadian legal strategies, even though the courts are stacked against us. Slowly but surely we get backed into a corner where the only thing left to do is to put our bodies on the land.
The response is always the same – intimidation, force, violence, media smear campaigns, criminalization, silence, talk, negotiation, "new relationships", promises, placated resistance and then more
broken promises. Then the cycle repeats itself.
This is why it is absolutely critical that our conversations about reconciliation include the land. We simple cannot build a new relationship with Canada until we can talk openly about sharing the land in a way that ensures the continuation of Indigenous cultures and lifeways for the coming generations. The dispossession of Indigenous peoples from our homelands is the root causes of every problem we face whether it is missing or murdered Indigenous women, fracking, pipelines, deforestation, mining, environmental contamination or social issues as a result of imposed poverty.
So we are faced with a choice. We can continue to show the photos of the three hunting rifles and the burnt out cop cars on every mainstream media outlet ad nauseam and paint the Mi'kmaq with every racist stereotype we know, or we can dig deeper. We can seek out the image of strong, calm Mi'kmaq women and children armed with drums and feathers and ask ourselves what would motivate mothers, grandmothers, aunties, sisters and daughters to stand up and say enough is enough. We can learn about the 400 years these people and their ancestors have spent resisting dispossession and erasure. We can learn about how they began their reconciliation process in the mid 1700s when they forged Peace and Friendship treaties. We can learn about why they chose to put their bodies on the land to protect their lands and waters against fracking because setting the willfully ignorant and racists aside, sane, intelligent people should be standing with them.
Our bodies should be on the land so that our grandchildren have something left to stand upon.
Read More | "Elsipogtog Everywhere" | Leanne Betasamosake Simpson