Our Bodies Are a Ceremony of Indigenous Nationhood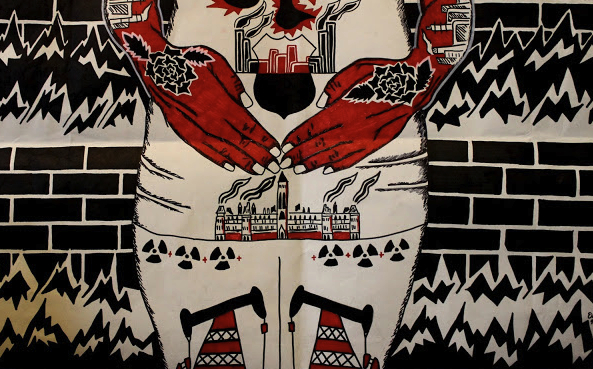 Building Indigenous nationhood through our bodies is done daily in our work across issues of sexual and reproductive health, rights, and justice. At the Native Youth Sexual Health Network (NYSHN) we simultaneously recognize that nation building exists not only in reclaiming our traditional territories, languages, cultures and ceremonies but also through our bodies as "places" connected to the land. We resist the colonial borders put upon our bodies (i.e. legislation) and also on the land by working across Turtle Island.
We also recognize the importance of restoration and reclamation in the work we do, in knowing and honoring the work of those who came before us, and the impacts of what we're doing now to generations ahead of us. We don't actually think that a lot of the knowledge that we're sharing is by any means "new", because we aren't willing to believe that our ancestors weren't having conversations about their bodies, how to take care of them, and their direct connection to land. And so we say resistance is sexy because reclamation and restoration are indeed part of that process, which includes the restoration of alliances and relationships to support each other as Indigenous nations, based on mutual respect and accountability.
Nation building through our bodies must recognize that each Indigenous nation and community is different; which means sexual and reproductive health, rights and justice looks different for each community. One size fits all approaches do not work, and can actually increase violence in the lives of Indigenous youth because they are assimilation in action. Our approaches must respect and recognize local and cultural protocols wherever we are. We do this by moving beyond the "one size fits all" approaches by working from a place of cultural safety, because we believe that our peoples deserve to feel safe, not just that others are being merely "sensitive" or "competent" to what's going on. Cultural safety means that we address issues of sexual and reproductive health, rights and justice by working with local communities to directly address issues and experiences of colonization, discrimination of each Indigenous nation while also honoring specific and diverse histories, cultures, and traditions. "Consultation" of what to do is not enough. Consent is necessary, at every juncture.
It's not about going into communities and doing our front line work with a save and rescue mentality or with the expectation that somehow a 3 hour workshop on suicide will fix all our problems, because it won't. Instead, it is the everyday resistance and nation building that we outline below.
Everyday examples of building our nations through our work at NYSHN include:
• Meeting youth where they are at. This approach moves away from the fear based colonial approach of saving or rescuing, and instead is about creating space for youth to tell us what makes them feel empowered, supporting the self determination they have over their bodies, lives and spaces. In an everyday context this can mean not shaming or blaming young people for the realities they live, but facing those realities head on, like unplanned pregnancies. At the end of the day we cannot tell people what to think, how to feel, or what to do and we do not want to. The role of NYSHN is to continue to create spaces where we can address our realities with knowledge and information, be heard and listened to in safer places, and take action.
• Building our Indigenous nations must also recognize youth who are often pushed or taken out of our communities; including youth in the child welfare system, incarcerated youth, people who use drugs, people in the sex trade, sex industries and street economies. In many cases these young people have specific skills from their experiences with colonialism and discrimination and have immense knowledge to offer in how we can rebuild our nations.
• Education about harm reduction (which includes safer sex materials, condoms, clean needles, safer drug consumption tools/supplies) is connected to conversations about how to live on the land in a safer way. Reoccupation of traditional hunting, fishing, and trapping grounds can be informed through harm reduction. There is a relationship between the two. Without knowledge, awareness and supervision, the land can be a dangerous place. Similarly, lack of honest conversations about substance use (even more "accepted" substances like caffeine or over the counter medication) can lead to harm that could have been prevented, like overdose.
• Supporting youth to address sexual violence in their communities without only having to use police and state authorities. This can sometimes create unsafe and more violent situations; or put young people back into the same systems that failed them in the first place. Rebuilding local Indigenous forms of community justice and accountability (which we've always had) and responding together to change the story of police violence and brutality.
• Reclaiming different Indigenous gender and sexual identities, including words, roles and responsibilities as LGBTTQQIA[1], Two-Spirit and gender non-conforming youth have in our community but to also supporting them in and growing those roles.
• Knowing that violence on the land is violence on our bodies. So when extractive industries such as mining, gas, oil, logging, etc. are on or near our territories, this is environmental violence that directly affects our overall health and wellbeing, not just the physical land. We see this in the higher rates of reproductive health cancers, contaminated breast milk, infant mortality, sexually transmitted infections, sexual violence and more in areas where resource extraction is happening. Environmental AND reproductive justice is necessary to act on to stop harms on all fronts.
• Telling our own stories about our bodies, cultures, experiences and strengths through Indigenous led media and arts justice. This includes our community based work of digital storytelling, Sexy Health Carnival, safer sex condom memes, supporting Indigenous arts initiatives like Walking With Our Sisters and the overall incorporation of Indigenous arts into how we address sexual and reproductive health, rights and justice.
We give these examples of nationhood because reclamation of our bodies as places and spaces connected to Indigenous territories needs to happen at the same time as we reclaim, rename and reoccupy places.
For example, when we represent ourselves on sacred sites for coming of age, or rites of passage ceremonies, but haven't also thought about how to support gender fabulous youth (many who are represented in higher rates of suicide) what spaces have we created in reclaimed areas? We can do this work at the same time, without creating hierarchies of what work is 'more important' or has to be done first.
Nationhood is about restoring our roles as caretakers of the land, and acknowledging that our bodies are connected, restoring our roles as leaders, and as sexy Indigenous peoples without apology!
By centering youth in nation building, we ensure current, upcoming and future leaders know their whole selves; their bodies, histories, cultures and how they are all connected. We enact self determination by first getting to know this through our bodies and our birthright to make decisions about them. Self determination becomes a way of life when we first practice it before we even know how to pronounce or spell it. Young people will know self determination as adults when they are not just given a 'seat at the table' but their full voice is respected and acknowledged as an essential part of a community and nation. An example of this voice and leadership is our Indigenous Young Women: Speaking Our Truths, Building Our Strengths initiative, lead by our National Peer Advisory. This self-governed advisory and initiative is made up of self-identified Indigenous young women who provide the leadership from the initial vision, gatherings, and to any community based actions associated with this ongoing project.
Nationhood is being done by our communities every day.  We see it in the way people share the good and bad stories despite all the harm colonialism has brought on, how everyone infant to elder, continues to fight and resist. It can be in the daily resistances that Indigenous youth take that at first glance may not be recognized as nation building, like sexy language revitalization, to reclaiming roles and responsibilities to sexual and reproductive health in our communities. We have the honor of seeing self-determination and nation building enacted each day by Indigenous youth through their bodies and sexual and reproductive justice.
The network of youth, families, communities, Elders and Indigenous peoples at NYSHN and the relationships we have amongst each other are also nation building. They are an active example of rebuilding and reclaiming the relationships that we have as nations. It is the energy and passion of the people, organizations and communities we meet, that fuels the Native Youth Sexual Health Network.
This is where nationhood begins; at home and in our communities.
—
NYSHN are resistors of violence from the state, violence on the land, and violence on bodies. Restoration of knowledge, justice, and ways to be safer in communities is critical to our work. And as we said in the beginning - yes; resistance is sexy! Their website is: www.nativeyouthsexualhealth.com Follow them on Twitter: @NYSHN
---
[1] Acronym used to describe people who identify as; Lesbian, Gay, Bisexual, Transgender, Trans sexual, Queer, Questioning, Intersex, and Asexual.