ACTION: Reclaim PKOLS - May 22, 2013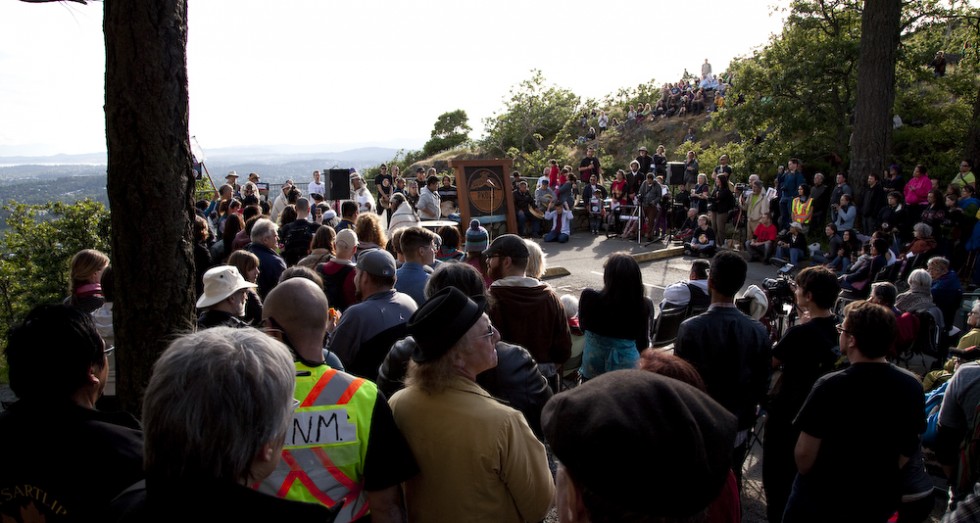 On May 22, 2013, Chiefs of the WSANEC (Saanich) and Lekwungen (Songhees) First Nations, joined by an estimated 700-800 supporters from neighbouring First Nations and non-indigenous communities, participated in a joint action to Reclaim PKOLS, in which local leaders signed a Joint Declaration and installed a permanent sign at the summit of the promontory in Saanich, BC, formerly known as Mount Douglas. The Declaration was signed during a ceremony at the summit, following a march and re-enactment of the original signing of the North Saanich Treaty with governor James Douglas at that location in 1852, and the installation of a cedar sign designed by Tsartlip master carver Temosen (Charles Elliott) reinstating the original name.

Stories of PKOLS go back to nearly the beginning of time for WSÁNEĆ (Saanich) people, and throughout history it has been an important meeting place. PKOLS can be translated as "White Head", which reflects the Indigenous oral history and geological findings that this was the last place glaciers receded from southern Vancouver Island.
Following the reclamation and installation of the PKOLS sign in May, local Indigenous nations and representatives from the Indigenous Nationhood Movement have been in discussion with the municipality to negotiate the permanent installation of the PKOLS sign at the summit and in the surrounding park area. The campaign to request the restoration of the original name within the Geographic Names Register is ongoing.
MORE INFORMATION: www.PKOLS.org
FULL TEXT of the PKOLS Declaration: "Declaration Reclaiming PKOLS" [PDF] PHOTOS: "PKOLS | Flickr"
STORIFY - EVENT TIMELINE: "Hundreds Gather in Victoria to Reclaim PKOLS"
VIDEO: